What's New
BLUE is operating an in-situ ozone remediation system for the remediation of PCBs in soil and groundwater under an EPA demonstration permit under 40 CFR 761:60 (e) – TSCA - the first and only of its kind - for the destruction of PCBs by alternate method (alternate to incineration and land-filling) in the United States.
Three years of demonstration permit remediation activities have been completed. Throughout this period, semi-annual sampling and laboratory analysis have documentated a 90% destruction of PCBs, in both soils and ground water, site-wide. Pre – remedial concentrations were as high as 14,000 mg/kg, with an estimated total PCB mass of 3,101 lbs. The post remedial goal for this site is 1 mg/kg.
Currently an application for an EPA Technology Permit is in process which allows BLUE to use this in-situ technology patented by Kerfoot Technologies, Inc. of Mashpee, MA and licensed to BLUE for the remediation of PCBs. This technology permit is expected to be applicable throughout the United States.
Initial estimates indicate that a savings of 60% over conventional methods has been realized for the remediation of PCBs at this site.
Other contaminants of concern at this site are petroleum-based hydrocarbons in which the PCBs were entrained. For more information about this project, go to:   In-Situ Ozone Remediation of PCB Contaminated Soils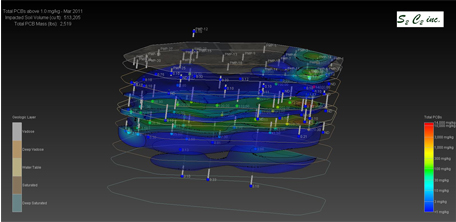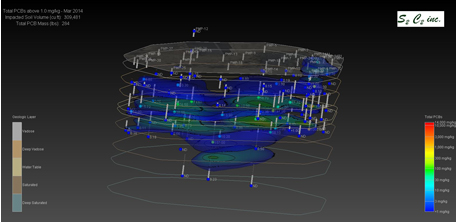 Graphics, above, indicate PCB mass reductions over time, as modeled by CTech's Mining Visualization System (MVS).  MVS depicts an initial high mass loading of 3,101 lbs. and, with continuous ozone application, a site wide mass level reduction to 284 lbs. within 36 months.
Out and About:
BLUE was chosen for a poster presentations at RE3 in Philadelphia (January 2014). The RE3 conference is a "for the industry by the industry" conference committed to presenting a unique conference for technical and non-technical attendees.
To learn more about the conference, go to:
http://www.enviroblend.com/RE3/
BLUE presented a poster at the Battelle Ninth International Conference on Remediation of Chlorinated and Recalcitrant Compounds in Monterey, California (May 2014). The poster, "Ozone Based In-Situ Remediation of a PCB Release in Soils and Groundwater" summarizes the results of PCB remediation at BLUE's site in Franklinville, NJ.
To learn more about the conference, go to:
http://battelle.org/media/battelle-conferences/chlorcon
Upcoming Events:
Battelle Sediments Conference, New Orleans, LA

January 12-15, 2015
Poster Presentation on January 13, 2015:
"Success of In-Situ Ozone Based Destruction of PCBs in Soils Supports Similar Applications in Sediments"
Information at: http://battelle.org/media/conferences/sedimentscon

RemTEK, Westminster, CO

March 2-4, 2015
Poster Presentation: PCB Destruction by Ozone Based ISCO
Information at: http://www.remtecsummit.com